The Five Don't Think Tom Hanks' Blackface-gate Is Going To Hurt President Obama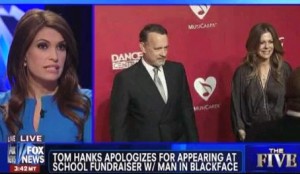 As the conservative media quest to prove that every celebrity who has ever said anything nice about President Obama is actually a million times worse than Rush Limbaugh continues, the sights have turned to Tom Hanks who had the gall to lend his lovable, everyman voice to the narration of the recent Obama re-election documentary. However, unlike with Robert De Niro (whose horrible "offense" wasn't even bad enough to offend Ann Coulter), this time people actually found the goods. The Daily Caller got their hands on a 2004 video of Hanks emceeing at an auction to fundraise for his son's private school. On stage with Hanks at one point is a white man in blackface, apparently to assist with the the fundraisers "cast aways" theme. However, surprisingly enough, the hosts on The Five couldn't get in on the game, expressing doubt that the video will matter much at all.
For the past couple weeks, I've mocked the conservative media's panicky attempt to find offensive liberal celebrities. I mean, Bill Maher is one thing (even he'd admit he's said offensive stuff), but when people start trying to persuade Americans that Louis C.K., Cee Lo Green, and Robert De Niro are the source of the world's evil, they just start looking silly. So, when I heard that Tom Hanks was the new target, I was all set to mock the story. However, when I saw The Daily Callers' video and saw Hanks refuse to pull a Harry Connick Jr., I had to take pause. Blackface just ain't cool. Even if your black girlfriend asks you to wear blackface, it ain't cool. It's certainly not cool if you're at a wealthy private school in front of a seemingly all-white audience. And, while Hanks has apologized, I was all ready for The Five to take him to task.
However, despite a ton of teases throughout tonight's show that they were going to talk about something Hanks did that "may hurt the President," everyone was on Hanks' side. Sure, Eric Bolling tried a few half-hearted objections but he'd diss a mosquito if he thought it was biting more Republicans than Democrats.
So what does this mean? What does it mean when a Fox News opinion panel won't trash Tom Hanks even when it could hurt President Obama? Well, there's only one possible explanation; Tom Hanks is the most beloved man on the planet. You just can't not like that guy!
I mean, he's Woody!
Watch the segment from Fox News below:
Have a tip we should know? tips@mediaite.com