The Five Fires Back at MSNBC: 'No, Conservatives Don't Owe Liberals Apology'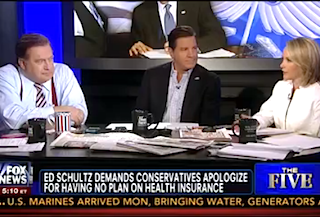 The hosts of Fox News' The Five found themselves in dialogue with MSNBC's Ed Schultz over demands that anchor made for conservatives to apologize to the millions of Americans who have gone without health insurance for before the Affordable Care Act kicked in.
"You can tell why their ratings are so bad," Dana Perino said after watching the clip. "I actually think it's the reverse," she said of Schultz' premise. "I think liberals should apologize to conservatives." Perino said that since conservatives were the ones who argued against Obamacare, and were called "racist" for doing so, they deserve an apology now that things aren't going as smoothly as they could be.
"I wouldn't wait a long time for an apology," Bob Beckel said, taking Schultz's side. On the contrary, he said, "conservatives have done everything they could, put every roadblock in the way."
Meanwhile, Eric Bolling added of Schultz, "We owe the viewers an apology for putting that buffoon on our air." He asked, "Really? Conservatives should apologize for warning the public, the American people, that this is coming? No, conservatives don't owe liberals an apology."
As Beckel tried to protest, Greg Gutfeld stopped him by yelling "Shut up! You are wrong! Is it conservatives' fault that 3% of people have enrolled? Is that the conservatives fault? That's like getting your wrong on the SAT's, that's your fault."
Turning back to the recently-released estimates on Obamacare enrollees, Andrea Tantaros pointed out that they include people who have plans in their "shopping carts," but haven't completed the purchase. "Do you know how many shoes i have in different shopping carts on websites across America?" she asked.
Watch video below, via Fox News:
[photo via screengrab]
— —
>> Follow Matt Wilstein (@TheMattWilstein) on Twitter
Have a tip we should know? tips@mediaite.com