The Five Follows Up With Hannity About Heated Interview With Occupy Organizer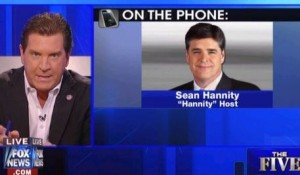 On Friday, The Five invited Sean Hannity to follow up on his fiery interview with Occupy Wall Street organizer Harrison Schultz. While most of the co-hosts raved about the spectacle, Bob Beckel asked, "Are you embarrassed by how mean that interview was?"
RELATED: Hannity Destroys Occupy Organizer In Fiery Segment About Movement's Violence
Hannity started off with an update. He said he had Schultz on his radio show on Friday, and offered to help him get a job. Noting Schultz, in response, was "so obnoxious," Hannity said Schultz would not accept a job that paid less than $80,000 salary — even though "he said, basically he did not have any skills."
What got him angry, Greg Gutfeld said, was Schultz's accusations about the police department. Hannity went on to note that he's frustrated that President Obama and Nancy Pelosi have "endorsed" such a movement.
Dana Perino added that it seemed almost as if Hannity was acting like Schultz's dad, trying to "shake some sense" into him. While that didn't occur to him at the time, Hannity said, others have brought that point up as well. He further added that Schultz was "very angry and hostile," and something he could not pinpoint.
Gutfeld ventured to pinpoint, saying, "He wants to be famous, it's phony rebellion, that's why he has that goatee." Real rebellion, he said, is going out and working.
Kimberly Guilfoyle then chimed in, voicing that she's concerned about the youth, and observing that Schultz had "such a chip on his shoulder." He was angry and "not making sense," she said — adding in that he lied about the police conspiracy.
On a less congratulatory note, Beckel asked, "Are you embarrassed by how mean that interview was?" Hannity replied, "Oh, stop it" — but Beckel insisted.
He continued, "Listen, you were brutal on this guy, and there are a lot of the issues he raises […] Do you not agree that there's income inequality in this country?"
Hannity replied, "I don't think it is the government's role to be redistributing the wealth." The two had a back and forth over the income inequality and the tax code.
Hannity then returned to a point he made last night: the value of hard work. He said he's worked as a dishwasher, waiter, bartender, and later in construction — and that work was one of the best things in his life.
Take a look, via Fox News:

Have a tip we should know? tips@mediaite.com