The Five Hits MSNBC's Chris Lane Coverage: 'Black on White Crime' Doesn't Fit Their Agenda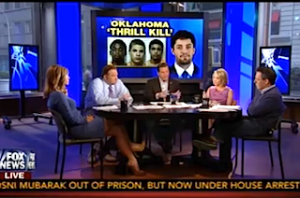 The Five continued its coverage of the Chris Lane murder Wednesday by examining how the media has been reacting to the story in relation to the way the Trayvon Martin case was handled. Greg Gutfeld opened the show by calling out the "producers and networks and hacks who accept violence through unconscious bigotry."
Gutfeld proceeded to highlight Noah Rothman's recent column on Mediaite (a website "for media hacks like myself") that accused the press of "routinely" calling George Zimmerman "white" while avoiding descriptions of Lane's alleged killers. "Is that a fair point?" Gutfeld asked.
Eric Bolling overwhelmingly approved of Rothman's point, saying, "The media is not calling this what this is. These are two black kids, the shooter is black, he killed a white guy, he said he hates white people" on his Twitter account. Bolling said the media doesn't want to talk about "black on black crime or black on white crime. The only thing that fits the rundown on MSNBC seems to be white on black crime."
Gutfeld replied that since Trayvon Martin, there has been a game of "race poker, where I see your white on black crime and I raise you with our black on white crime." He asked, "Is it just better to look at the decline of the family and a destructive culture than the color of skin?"
Dana Perino said that's the problem with hate crime legislation. "Crime is crime," she said.
Watch video below, via Fox News:
[photo via screengrab]
—
>> Follow Matt Wilstein (@TheMattWilstein) on Twitter
Have a tip we should know? tips@mediaite.com