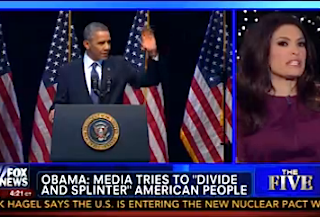 On Friday afternoon, Fox News' The Five dissected several clips from President Barack Obama's nearly one-hour long interview with MSNBC's Chris Matthews that aired Thursday evening before landing on one regarding the media's role in "dividing" and "splintering" the American people.
"The American people are good and they are decent, and yes, sometimes we get very divided," Obama told Matthews, "partly because our politics and our media specifically tries to divide them and splinter them."
"Who did he really mean when he was talking about the media?" Kimberly Guilfoyle wondered. "Blame Fox Bews. Blame it on the rain, whatever. I mean, quit making excuses. The bottom line is, he's had the most control in terms of partisan politics and he's had the ability to put stuff through. What has he done with it?"
Guilfoyle comments got Bob Beckel laughing audibly at the idea that Obama is to blame for the divisiveness in Washington. "It's so far off the charts," he said. "You've got the tea party in the House, who are a bunch of people who don't want to do anything that Obama wants to do!"
From there, the group moved on the largest economic issues raised by the president, including the rising income inequality in America. This time, Beckel found himself in a screaming match with Eric Bolling over the true meaning of the dropping unemployment numbers.
"You have Obama condemning inequality after running the country for five years," Greg Gutfeld said. "That's like a citizen complaining of graffiti as he holds a can of spray paint."
Watch video below, via Fox News:
[photo via screengrab]
— —
>> Follow Matt Wilstein (@TheMattWilstein) on Twitter
Have a tip we should know? tips@mediaite.com