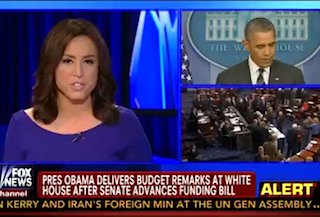 In the wake of President Obama's Friday afternoon press briefing, during which he both revealed a historic phone conversation with Iranian President Hassan Rouhani and urged House Republicans to pass a budget a resolution, The Five came up with a way to tie the two disparate issue together. "What do you guys think about the president negotiating with the Iranian president but not Republicans?" Andrea Tantaros asked her co-hosts at the top of the show.
Eric Bolling was "blown away" by the news about Iran. "I'm flabbergasted the president made the phone call to Rouhani after 33 years or so," he said. "There's a reason we haven't negotiated with Iran, because they're state-sponsored terrorists." He called the phone call a "mistake."
Greg Gutfeld had some advice for Republicans who want negotiate with Obama. "They should put on Putin masks," he said, "and he will fold like a weak card table." In terms of the substance of the disagreements with the GOP, Gutfeld said he doesn't see how this is Republicans' fault.
Meanwhile, Bob Beckel predicted that if the Republicans "succeed in shutting down the government, they will take the hit on it" politically.
Bolling hit back that no matter what happens the U.S. won't actually default on our debt, saying it's just President Obama "scaring the crap out of the American people."
Katie Pavlich steered the conversation back to the Rouhani call, saying she would like to get a comparison on the length of that phone call to the one Obama had with House Speaker John Boehner last week. "When he's talking about Republicans and the Iranians," she said of Obama, "he's talking to Republicans through the television. He said, if any of you are watching this, you need to think about who you're hurting. So instead of sitting down with him at a table, he's instead talking to them through a television screen while he's on the phone with the Iranian president."
Watch video below, via Fox News:
[photo via screengrab]
— —
>> Follow Matt Wilstein (@TheMattWilstein) on Twitter
Have a tip we should know? tips@mediaite.com