The Five Hosts Battle Over Issa's 'Disgraceful' 'Paid Liar' Jab: 'The Best Response Was Jay Carney's'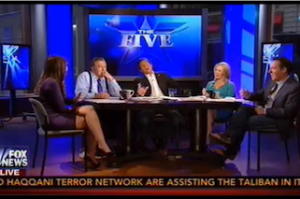 Rep. Darrell Issa (R-CA) didn't receive the full-fledged support he may have expected from the hosts of Fox News' The Five Monday afternoon after he called White House Press Secretary Jay Carney a "paid liar" this weekend on CNN. But the hosts were also not pleased with the seemingly angry response from former Obama advisor David Plouffe and other supporters of the president.
"Honestly, maybe Darrell Issa shouldn't have said 'paid liar,'" Eric Bolling said, with the emphasis on the word "paid," but at the same time, he suggested there was no reason for Plouffe to call Issa "Mr. Grand Theft Auto." Bolling viewed the whole episode as nothing more than a "back and forth" "peeing match" between Republicans and Democrats.
"It was a disgraceful comment on his part," Bob Beckel said of Chairman Issa, also condemning Plouffe's response. "For the chairman of a committee that's presumably undertaking a serious investigation to call people paid liars diminishes his own role in this thing and for Plouffe to come back and call him those things is bad too."
Dana Perino, herself a former press secretary for President George W. Bush, commended Carney for how he handled a question about Issa's comment at today's briefing. "The best response out of all of this was Jay Carney's, who said I am not going to dignify that, I am not going to engage with Darrell Issa. My job is to answer your questions. As a press secretary you never want to become the story. If you do become the story, you have a problem."
Issa's comments were also criticized by fellow Republicans earlier in the day, including Joe Scarborough, who said someone in the congressman's position "can't say things like this" and Sen. John McCain (R-AZ), who indicated he wouldn't have used those words to describe Carney.
Watch video below, via Fox News:
—
>> Follow Matt Wilstein (@TheMattWilstein) on Twitter
Have a tip we should know? tips@mediaite.com