The Five Hosts Defend Bloomberg's 'Stop And Frisk' Remarks: Calling Him Racist Just Shuts Down Debate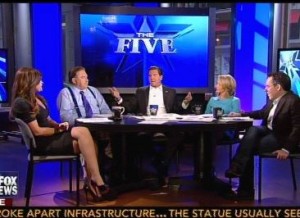 The hosts of The Five tonight offered a rare defense of New York City mayor Michael Bloomberg against charges that he made "racially charged" remarks when he lashed out at stop-and-frisk opponents last week. The hosts had a consensus on whether or not Bloomberg was being offensive (he wasn't), but they were split when it came to the actual stop-and-frisk policy. Liberal Bob Beckel was very outspoken against it, while conservative Eric Bolling admitted he's not sure about the constitutionality or effectiveness of the law enforcement practice.
RELATED: Bloomberg Unloads On 'Stop And Frisk' Opponents: Whites Stopped 'Too Much' And 'Minorities Too Little'
Greg Gutfeld opened with a short monologue calling out people attacking Bloomberg, because going after someone's tone instead of the content of their meaning "allows you to avoid addressing the statement's truthfulness." Beckel admitted he wouldn't have said what Bloomberg did in the same way, and claimed that an "overwhelming majority" of police officers are stationed in white, suburban neighborhoods. Kimberly Guilfoyle asked how Beckel knew that. Beckel responded, "Walking through Times Square!"
Gutfeld noted that stop-and-frisk may actually be making neighborhoods safer. Bolling allowed that it may be effective, but asked, "What are they catching? What are they stopping?" Gutfeld said they're confiscating weapons, to which Bolling responded, "Are they, though?"
Beckel doubted this was the case too. Gutfeld joked that Beckel is "secretly hoping to be stopped and frisked." Perino said this is probably he's just marching up and down Times Square, because he's got nothing better to do.
Guilfoyle insisted the stop-and-frisk policy is effective, and claimed, "If you're interested in crime going up, then continue to try and mess with the police department that are trying to do their job, keep the streets safe, so that crimes don't happen." Bolling wondered if he was being a hypocrite for what might be considered a violation of the Fourth Amendment.
Bolling did conclude the segment by saying, "If it's constitutional, I'm all for it."
Watch the video below, courtesy of Fox News:
—–
Follow Josh Feldman on Twitter: @feldmaniac
Have a tip we should know? tips@mediaite.com
Josh Feldman - Senior Editor