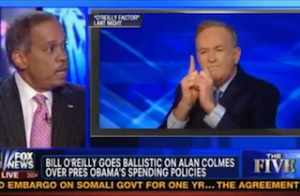 Fox News' The Five opened its Wednesday afternoon show with a look at last night's epic showdown between Bill O'Reilly and liberal contributor Alan Colmes over whether President Obama has proposed specific entitlement spending cuts.
"President Obama should be ashamed for putting good liberals in the untenable position of having to defend the president's lies on spending," host Eric Bolling said after the excerpts concluded, before turning the discussion over to his colleagues. The panel overwhelmingly supported O'Reilly's dramatic presentation, which included repeated shouts of "you are lying," with the exception of special guest Juan Williams, who single-handedly stood up for Colmes.
Williams was the only one on the show to assert that O'Reilly "overreacted" and he defended Alan Colmes for getting his facts right about Obama's willingness to make cuts through both means testing for Medicare and the sequester.
Andrea Tantaros was the first to throw her support behind O'Reilly, admitting that he "got very heated," but adding an enthusiastic "good for Bill!" She added, "$17 trillion in debt is a serious thing. We talk about it like it's nothing. We laugh and make jokes. It is a big deal. It's the biggest issue facing this country."
Kimberly Guilfoyle also said she understood O'Reilly's "frustration" with an Obama administration that's "treating American people's money like Monopoly money."
And, finally, Greg Gutfeld had the zinger of the segment by saying O'Reilly's next book is going to be called "Killing Colmes."
From there, the panel moved on to a recent broadcast from Rush Limbaugh, who said that President Obama's real aim is to "inflict pain" on Americans. The Five's co-hosts did not hesitate to agree with Limbaugh's theory as well, with once again only Juan Williams standing up for the Democratic side.
In the end, O'Reilly may not have been able to convince Alan Colmes that he's "being conned" by President Obama, but he certainly convinced the hosts of The Five.
Watch video below, via Fox News:
—
>> Follow Matt Wilstein (@TheMattWilstein) on Twitter
Have a tip we should know? tips@mediaite.com