The Five Hosts Lash Out at Obama for Silence In Face of 'Fanatic' Muslim 'War on Christianity'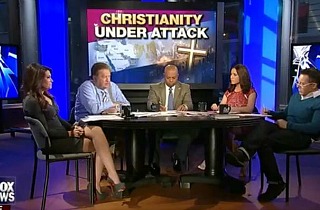 On Monday, The Five host Bob Beckel lashed out at "fanatic, thug, murdering" Muslims abroad who he said are waging a "war on Christianity." His co-hosts agreed and scolded Democrats and President Barack Obama for remaining silent on the issue and choosing to "conflate" the histories of Christianity and Islam in order to make a political point.

"Some people, especially in the media, won't tell you the truth about what's going on," Beckel began. He said he was happy to see Sen. Rand Paul (R-KY) who declared that there is a "world-wide war on Christianity."
"The truth is a world-wide war against Christians is being waged by a fanatical element of Islam," Paul said.
"The other thing we want to point out to some of these presumably Muslim countries is that Christians were there before you were," Beckel added. "There may be more of you – you may have bread faster — the fact of the matter is, they have every right to practice their religion."
"And if you don't stop it, there are going to be consequences," Beckel concluded.
RELATED: Joel Osteen Hoax Represents Latest In War On Christianity
"Where are the so-called moderate Muslims?" conservative radio host and Fox News contributor Dave Webb asked.
"It's the last acceptable form of discrimination in this country is against Christians," Andrea Tantaros noted. She attacked the White House for remaining silent on incidences of violence against Christians in the Muslim world.
"Christians should convert to Islam, then Obama will be sympathetic," Greg Gutfeld opined.
Kimberly Guilfoyle lamented the actions of members of the Muslim community abroad making efforts to keep young girls and women in subordinate positions. "It's the real war against women," Gutfeld added.
Beckel scolded American liberals for remaining silent "in the face of these fanatic, thug, murdering bums."
Tantaros said that the White House goes out of their way to "conflate" the histories of Christianity and Islam, "talking about the shared history of tolerance."
"That's a bunch of bull," she said.
Watch the clip below via Fox News Channel:
[Photo via screen grab]
— —
> >Follow Noah Rothman (@NoahCRothman) on Twitter
Have a tip we should know? tips@mediaite.com