Fox's The Five Hosts: Post-Hurricane Sandy Gas Lines Are 'Carter-Esque,' Bad For Obama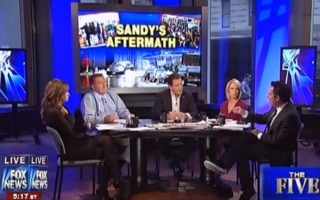 The hosts of The Five took on the political impact that Hurricane Sandy could have on the presidential election with less than one week away before voters head to the polls. Eric Bolling said that he saw lines outside of filling station in New Jersey, New York and Connecticut in the wake of Sandy as reminiscent of the gas lines that characterized Jimmy Carter's presidency during the OPEC oil embargo. With the exception of Bob Beckel, the hosts agreed that Hurricane Sandy's impact on the electorate would be bad for President Barack Obama.

Bolling described gas lines in the Northeast that have followed Hurricane Sandy as "Carter-esque."
"This is America, folks," Bolling said. "It's not supposed to be this way."
"It's one of the worst analogies I've heard you make, and I've heard you make a lot of bad analogies," said Beckel.
"When people are waiting in four hour lines to get gas, how can that be good for the president," Bolling asked.
Kimberly Guilfoyle said it was unlikely that the president would benefit from the storm, given that so many Americans are now unable to get to work and will suffer lost wages that they cannot afford.
Beckel said that his fellow hosts were attempting to make the disaster a politically beneficial issue for Mitt Romney without having the facts to support that argument.
"What happened to Bush with Katrina," Guilfoyle asked.
"You Republicans got to think of something besides Sandy to make a case for in the final four days," Beckel said.
Dana Perino replied that Romney is not making that case, and is instead focusing on his jobs plan on the stump.
Watch the segment below via Fox News Channel:
> >Follow Noah Rothman (@Noah_C_Rothman) on Twitter
Have a tip we should know? tips@mediaite.com