The Five Hosts Slam 'Flaccid' Piers Morgan, Praise Bob Woodward For Comparing Benghazi To Watergate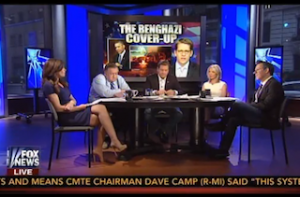 Friday afternoon on The Five, Greg Gutfeld offered a comparison between two members of the "mainstream media" who he sees handling the Benghazi story very differently. On the one hand, he thought Piers Morgan went "flaccid" when faced with White House Press Secretary Jay Carney last night. On the other, he applauded Bob Woodward for admitting that there are parallels between Benghazi and Watergate.

Describing the "love affair" between President Obama and most of the press, Gutfeld said, "the media has to wonder why the only entity the White House cares about is Fox News. For a non-Fox reporter that means you are a pushover. Obama can have you any time he likes, and he's about to have you now. Be sure and wear that nighty he likes so much and don't talk, he hates that."
Kimberly Guilfoyle also praised Woodward for recognizing the scandal in the Benghazi story. "I think this is something this administration should be genuinely ashamed of. And the problem is, they act like spoiled brats. It's never their fault, it's never their responsibility, it's always someone else."
Taking on Morgan's interview with Carney, Eric Bolling thought perhaps he could have done better, urging the press secretary to do a one-on-one interview with him. "I'd love to just give you a couple of minutes, we'll clear the air," he said. "ask you a couple of questions that Piers probably didn't ask you."
"Well, with an invitation like that…" Dana Perino replied.
Watch video below, via Fox News:
—
>> Follow Matt Wilstein (@TheMattWilstein) on Twitter
Have a tip we should know? tips@mediaite.com