The Five Hosts Take On Paula Deen's Racism: 'Where There's Smoke, There's Fire'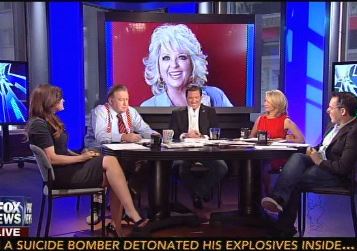 The hosts of Fox News Channel's The Five took on the firestorm of controversy surrounding celebrity chef Paula Deen's admission that she had used racial slurs in the past. Deen's claim that she had at one point used inappropriate racial terms but no longer did rang hollow for the hosts of The Five. They noted that her glorification of Southern living, her plantation nostalgia, and the host's personal their experience with people who have a penchant for using racial slurs, led them to believe that Deen was concealing even more personal baggage.

Greg Gutfeld began the segment by observing that Deen is known for popularizing foods with high fat and caloric contents. "I don't know how she could be racist if she's trying to kill so many white people," he observed.
Gutfeld questioned why Deen would not receive forgiveness if she was asking for it. "We're a forgiving country, aren't we?" he asked.
"I think The Food Network did what they had to do," said Eric Bolling. "I frankly don't have any sympathy for her."
"But she didn't do it on the show," Kimberly Guilfoyle observed.
"Doesn't matter," Bolling shot back.
RELATED: Paula Deen Releases 1st Video Statement Addressing Use Of N-Word, Plantation Costumes (UPDATED)
The two battled over how correct it was to fire Deen over her admission to using offensive language in a private conversation with her husband. "Where there is smoke there's fire, and it has to be deeper than just her saying to her husband an N-word one time," Bolling asserted.
"Clearly she feels like she did something wrong, or she wouldn't have done that weird YouTube vide," Dana Perino opined. "It was the most insincere apology I've seen."
Perino noted that Deen has been accused of creating an environment in the workplace where racial jokes and pornography are acceptable.
"She should have been gone a long time ago," Bob Beckel declared.
The hosts agreed that it was unlikely that Deen had stopped using racial slurs decades ago. Gutfeld noted that the most damming evidence that condemns Deen's racist impulses is her ideal "plantation-style" wedding.
Beckel said that, as a person who has experience begging for forgiveness, Deen's apology was insufficient. "Lord knows, I've had to ask forgiveness for so many times," he said. "In this situation, it is intolerable to allow that to go forward and I think The Food Network had every reason in the world."
"If you're a Christian, you'll forgive her," Bolling noted, " but The Food Network is completely in the right."
Watch the clip below via Fox News Channel:
> >Follow Noah Rothman (@NoahCRothman) on Twitter
Have a tip we should know? tips@mediaite.com