The Five Hosts Take On Republican Pessimism, Greg Gutfeld Compares GOP To 'Vampire-Killers'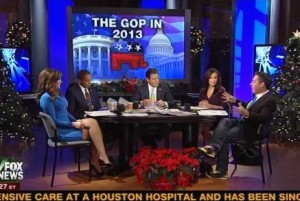 Earlier today, the hosts of The Five looked ahead at the Republican party's fears about what's ahead in the coming year. In particular, they highlighted a poll showing that overall, Americans feel more pessimistic about the year to come than they have in decades. In particular, 72 percent of Republicans are worried about the year to come, up a staggering 20 points from six years ago.
RELATED: Poll: Americans' Outlook Ahead Of 2013 Bleakest It's Been In More Than A Decade
Andrea Tantaros wondered if the GOP is more worried because "they're more grounded in reason" and "they get it more than liberals." Greg Gutfeld compared conservatives to "vampire-killers" concerned about the growth of government over the next year. Kimberly Guilfoyle said Democrats are more optimistic because they still hold the reigns, so they're "happy and dreaming of little entitlements dancing over their heads."
Guilfoyle contrasted the Democrats' chipper outlook with "realists who have to earn a living" who can see the writing on the economic wall. Juan Williams dissented with his fellow co-hosts, remarking that many Republicans who were living in a "bubble" the entire election year are now just pessimistic and depressed because their side lost.
Eric Bolling broke down the poll numbers to conclude that "100 percent of the real conservatives" in the GOP are extremely worried about the future of the country. Of course, many of these conservatives have not been happy with how much John Boehner has indicated a willingness to compromise on raising taxes in the fiscal cliff negotiations, and Tantaros brought up numbers showing that Boehner is officially less popular than his Democratic counterpart Nancy Pelosi.
The co-hosts mostly agreed that last week's blunder in which Boehner was unable to wrangle the votes for the proposed "Plan B" was a "mess." However, Williams again dissented with his colleagues on which side needs to compromise more: President Obama or House Republicans.
Watch the video below, courtesy of Fox News:
—–
Follow Josh Feldman on Twitter: @feldmaniac
Have a tip we should know? tips@mediaite.com
Josh Feldman - Senior Editor