The Five Hosts Tear Into Al Sharpton: 'Race-Baiter,' Pressured Zimmerman Arrest & Trial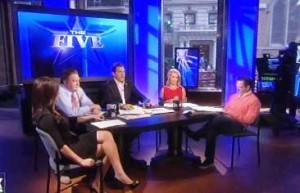 The hosts of The Five tonight partially pointed the finger of blame at the "race politics" of the George Zimmerman trial at MSNBC host Al Sharpton. Sharpton has been one of the most outspoken media figures about the trial from the beginning, and even spoke at rallies for Trayvon Martin's family. Eric Bolling went so far as to suggest Sharpton was even the "catalyst behind the Murder 2 charge" Zimmerman is facing.
Greg Gutfeld wondered how Sharpton is still "taken seriously" in the U.S. after his involvement in cases like Tawana Brawley. He called Sharpton a "race-baiter" who hasn't let bumps in the road get in the way of his activist career, and said that if a not guilty verdict in the Zimmerman case results in violence, "he's got to be part of the blame." Bob Beckel argued that Sharpton should be more proactive in dialing down the fury, but Gutfeld quipped that he's on MSNBC so no one would notice anyway.
RELATED: Geraldo: Al Sharpton And 'Race Politics' Forced Florida To Pursue 'Weak' Case Against Zimmerman
Andrea Tantaros doubted Sharpton has any interest in walking his more fiery statements back, and even went so far as to blame President Obama for weighing in on the case in the first place. Dana Perino took a decidedly different view, arguing that weeks after Martin's death there was no arrest, and asked that if not for Sharpton, "who else was going to step up?"
Greta Van Susteren told the co-hosts that she expected more from Obama then to weigh in like he did, and responded to Tantaros asking about Obama "cherry-picking" which national tragedies to respond to and which not to by saying that the president probably "shouldn't be weighing in" on these things.
Watch the video below, via Fox News:
—–
Follow Josh Feldman on Twitter: @feldmaniac
Have a tip we should know? tips@mediaite.com
Josh Feldman - Senior Editor