The Five Hosts Try To Get Bob Beckel To Apologize To Allen West For 'Blowhard' Rant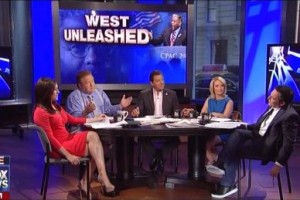 Fox News' The Five has been on the air for a whole year now, and in that span of time nothing has been quite as notable about the program as the 4-on-1 showdowns between liberal host Bob Beckel and everyone else. And today's show was no different, as the other hosts tried to push Beckel into walking back his harsh words about Congressman Allen West, which climaxed yesterday in a rant where Beckel told West, "Shut up, you blowhard!"
RELATED: The Five's Bob Beckel Goes Ballistic On Allen West: 'Shut Up, You Blowhard!'
Eric Bolling brought up recent comments by West criticizing white liberals for acting condescending towards black conservatives. And right on cue, he turned to Beckel for his take. Beckel acknowledged his comments on yesterday's show, clarifying that "everybody's got a right to speak, even if it's stupid things they say." He self-deprecatingly referred to himself as a fellow blowhard, but that's where the nice ended and Beckel ripped into West by bringing up their respective support of the black community.
"I don't know what he ever did. I went down and registered voters in the South, blacks in the South, did he ever do that? Secondly, I got beat up by a bunch of rednecks in the South. Did he ever do it? No. I went and demonstrated in front of a Denny's because they didn't serve black people. Did he do it? Maybe he did. But don't try to call me a racist."
However, Beckel said he's willing to forgive West despite thinking he's "ignorant and sophomoric." It was at that point that Greg Gutfeld loudly interrupted Beckel, saying "Shut up! You were supposed to apologize! Can't you just apologize to the guy?" Gutfeld argued West's point was simply that "the road to failure leads to white liberal guilt."
Dana Perino said that what she likes about West is that he's not afraid to speak his mind, even if it "rubs people the wrong way," and said he deserves respect for that, not to mention his military service. Beckel made it clear he was not calling West's military record into question, but concluded "he does not deserve my respect for the things that he says."
This is not the first time Beckel has refused to apologize to West for provocative statements. In January, after the congressman said that Democrats should "get the hell out of the United States", Beckel called the remark "disgraceful," and the next day after West demanded an apology, Beckel made it clear one was not coming.
Watch the video below, courtesy of Fox News:
Have a tip we should know? tips@mediaite.com
Josh Feldman - Senior Editor