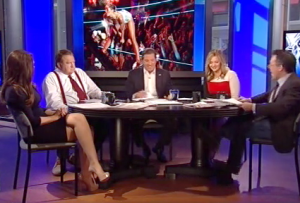 Miley Cyrus did some pretty shocking and provocative things at the VMA last night either to, presumably, boost her crumbling profile. And today, practically everyone is talking about Cyrus humping bears and stripping down and doing whatever in the living hell "twerking" is, including Fox News' The Five. It's rare to see all five hosts agree, and today it took the absolute horror of whatever Cyrus did while I was watching Breaking Bad to get them on the same side.
Katie Pavlich mockingly called it our new "national crisis" (Ben Affleck tarnishing the sacred role of Batman is already old news). Eric Bolling, while not wanting to sound like the "prude father," found himself in agreement with Rush Limbaugh that the performance "borders on pornography." Bob Beckel, in that ol' Bob Beckel way, described Cyrus' performance as a "cheerleading squad for hookers."
Greg Gutfeld suggested Cyrus wanted all the angry media backlash "because it makes her look edgy," but it may not have worked out that way. Kimberly Guilfoyle said, "If I were her parents, I would be crying buckets of tears right now." There were the usual jokes last night about how horrified Billy Ray Cyrus must be, but he tweeted out a surprisingly positive message after his daughter's performance.

The Five hosts agreed that Cyrus is really overdoing it in trying to distance herself from her Disney past. Not everyone can go the full Gaga, and no one should even bother trying.
Watch the video below, via Fox News:
—–
Follow Josh Feldman on Twitter: @feldmaniac
Have a tip we should know? tips@mediaite.com
Josh Feldman - Senior Editor