The Five: If Obama's Not a 'Real Socialist,' Does That Make Him a 'Fake' One?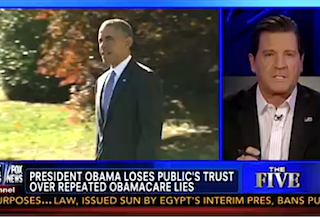 Fox News' The Five kicked off its Monday afternoon show with a look at an off-hand comment President Barack Obama made at last week's Wall Street Journal CEO Summit. "People call me a socialist sometimes," the president said. "But, no, you gotta meet real socialists. You'll have a sense of what a socialist is."
Eric Bolling tied Obama's remarks to a New York Times piece that quoted Obama advisers discussing how the administration has actively steered clear of the term "redistribution" in reference to the Affordable Care Act. "Conservatives like me think he's a socialist," Bolling said. "but the president doesn't always see it that way." After playing the soundbite in question, he added, "He's not a real socialist, he's just a fake socialist."
Bob Beckel disagreed, saying of Obama, "to call him a socialist is really just obscene and absurd." He openly admitted that there are elements of "redistribution" in the health care law, but said there's no other way to get everybody in the country covered.
"At least Bob doesn't deny it," Greg Gutfeld said, attacking Obama for trying to "hide" the true nature of the law. "In order to achieve their aims, they mask their ideology," he said. "Whatever you say about conservatives, whether you like them or hate them, they tell you what they believe in."
"Maybe redistribution isn't necessarily socialism," Bolling admitted. "Maybe we don't live with the socialist president. Maybe we have a president who simply believes in the welfare state."
For Kimberly Guilfoyle it all came down to "dishonesty" on Obama's part. "It offends me they think the American people are naive and aren't going to figure this out," she said. "They have to ban words. Don't call it terrorism, don't call it redistribution. Because they're trying to hide the truth. Be frank. Come out and say exactly what you believe and what you think the direction of country should be."
Watch video below, via Fox News:
[photo via screengrab]
— —
>> Follow Matt Wilstein (@TheMattWilstein) on Twitter
Have a tip we should know? [email protected]