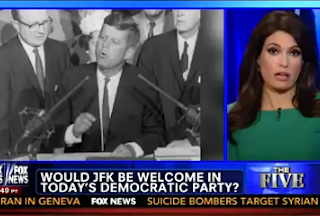 "Would JFK be welcome in today's Democratic Party?" That's the question Fox News' The Five asked just two days before the 50th anniversary of former President John F. Kennedy's assassination. As Bob Beckel said in his introduction to the topic, "Some people have asked whether Ronald Reagan would fit in today's Republican Party and the same question can be asked about President Kennedy."
While a recent survey of children found they did not know which party Abraham Lincoln belonged to, Dana Perino said, "I don't think anybody has any misunderstanding that JFK was a Democrat, because the Democrats have basically put him up as their martyr and their hero for many years." Noting that he was only president for 1,000 days, she said "that's not a lot of time to make a big impact."
Kimberly Guilfoyle went the other way, heaping praise on Kennedy while simultaneously criticizing modern Democrats. "One of the reasons why I think he perhaps wouldn't be acceptable in today's Democratic Party is because he transcended politics," she said. "I mean he was, yes, a consummate politician, but he was a man of class, a man of character. I think he's one of the greatest presidents that we ever had." She added that she feels the same way about Reagan.
Meanwhile, Greg Gutfeld pointed out that Kennedy, as a Catholic, was "pro-life," which is now "almost unheard of on the left side."
"I would say he would probably not be welcomed with open arms by the Bill Mahers and Michael Moores and the rest of the left-wing," Eric Bolling said, stressing that Kennedy favored "lower taxes."
"He wouldn't be liberal enough," Guilfoyle agreed.
Watch video below, via Fox News:
[photo via screengrab]
— —
>> Follow Matt Wilstein (@TheMattWilstein) on Twitter
Have a tip we should know? tips@mediaite.com