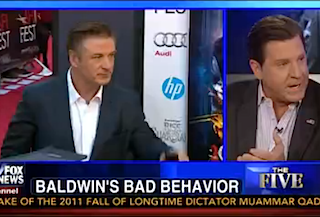 Fox News' The Five took some time out of Monday's show to pile on Alec Baldwin whose MSNBC show Up Late was suspended for two weeks following the actor's latest, possibly "anti-gay rant" was caught on camera. Over the weekend, he had another aggressive run-in with a reporter, leading Greg Gutfeld to call him a "bucket of fetid, swirling resentment."
"Why don't they just move?" Dana Perino asked of Baldwin and his wife. "Alec Baldwin obviously hates living here. He gets in trouble every week because all the paparazzi are outside."
Calling Baldwin an "angry, scattered soul," Gutfeld asked the group if MSNBC should have "known what they were getting into" when they decided to give him his own weekly show.
"I don't know why they picked him in the first place," Bob Beckel answered. "You knew this was a ticking time bomb, ready to go off. I think they get what they deserve."
Eric Bolling chalked Baldwin's behavior up to nothing more than attention-seeking. "I think he's a glutton for the attention, he'll take any attention," he said. "I guess it's an addiction, right? Where even if it's bad, he'll take it. He gets a lot of attention for it. We know what it's all about it: He 's a hot head."
The segment also touched on Matt Damon, who the hosts accused of "Hollywood hypocrisy" for advocating for public schools while sending his own children to private ones.
Watch video below, via Fox News:
[photo via screengrab]
— —
>> Follow Matt Wilstein (@TheMattWilstein) on Twitter
Have a tip we should know? [email protected]