The Five: Obama 'Fear Mongering' on Debt Ceiling, Pushing 'Maximum Pain' on Shutdown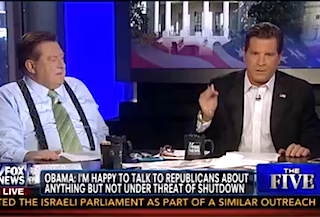 During a heated back and forth over the government shutdown and looming debt ceiling deadline, The Five's Eric Bolling used a clip of Treasury Secretary Jack Lew on Fox News Sunday to accused the Obama Administration of "fear mongering" and trying to inflict "maximum pain" on Americans with the shutdown.
Bolling then used an argument made by Sen. Rand Paul (R-KY) on Meet The Press to explain why the U.S. should not default on its debts even if the debt limit is breached. Echoing Paul, he said that America brings in $225 billion per month and servicing the debt is $24 billion, which leaves $200 billion leftover.
"I think you have to ask yourself, is this any way to run a business, or a country?" Dana Perino asked, remarking that "the shutdown was supposed to cause pain in order to get people to do something. But the pain has not arrived." She added, "What I don't think anybody's quite thought through is, the American people are sort of like, 'What is all the fuss about?' Because they haven't seen it yet. But the markets could react, and react very negatively."
Bolling pushed back on that idea, saying, "President Obama likes the pain. He's pushing for maximum shutdown pain." He mentioned the closure of the World War II memorial as an example.
"If you don't think that pain for a small business is not being able to process your loans," Bob Beckel said, "or for students to not process their loans or for any number of programs not being serviced in America that help poor people, if you don't think that's pain…"
Watch video below, via Fox News:
[photo via screengrab]
— —
>> Follow Matt Wilstein (@TheMattWilstein) on Twitter
Have a tip we should know? tips@mediaite.com