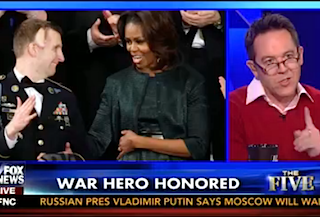 Fox News' The Five opened their post-State of the Union show Wednesday with some unexpected praise for the speech, specifically President Barack Obama's decision to honor Cory Remsburg, an army ranger who was badly wounded while on his 10th deployment in Afghanistan. But it wasn't long before the tone shifted and hosts including Eric Bolling and Greg Gutfeld began questioning the president's motives in ending his address the way he did.
Bolling called the section featuring Remsburg "the moment of the whole speech," but lamented the fact that it came more than an hour into the speech. "For me, he could have gone to it earlier," Bolling said, adding that even if he wanted it to come near the end of the speech, he should have given a real conclusion to the speech. "He almost used that really heartfelt, patriotic moment to say goodnight."
Gutfeld took things much further saying, "This heroic man was somewhat disconnected from the limp litany of grad school garbage that came before, and it felt like it was placed at the end of the speech to armor against scrutiny." He added, "Everyone walks away thinking about this amazing hero and not how lame the president's speech was."
"It was really moving at the end, but I felt like I was being used," Gutfeld said.
Summing up Gutfeld's point, Andrea Tantaros said, "It sounds like you feel like Cory was being used as a human shield from criticism."
Watch video below, via Fox News:
[photo via screengrab]
— —
>> Follow Matt Wilstein (@TheMattWilstein) on Twitter
Have a tip we should know? tips@mediaite.com