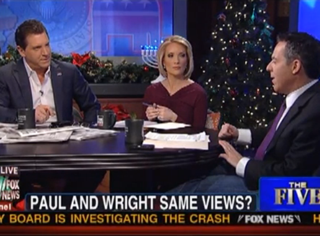 With the Iowa caucuses a week away, The Five revisited the 2012 Republican presidential landscape to find what the polls were looking like in the week between Christmas and New Year's. And it appears that, despite a rough week of racist newsletter coverage, Rep. Ron Paul is still on top. What did the panel compare this development to? Greg Gutfeld noted that, to some that had worked with the Congressman, it was as if "Crazy Uncle got too far."
RELATED: Greg Gutfeld Calls Ron Paul The 'Original Tea Party Candidate', Eric Bolling Cringes
Gutfeld cited a "great blog post" by a former Rep. Paul staffer who had described the experience of working for the Congressman, and appeared somewhat surprised at the heights the Congressman had risen to as a presidential candidate. Dana Perino noted that this may be why many voters are asking themselves why they had not heard of the more extreme problematic issues with Rep. Paul as a frontrunner before, despite him running for president twice (once as a Republican and once as a Libertarian)– because the media didn't bother to vet him as strongly as they had other candidates because no one anticipated his rise in the polls. Gutfeld joked that seeing Rep. Paul in the lead for Republicans must be like "crazy uncle is driving the car."
As for Rep. Paul's chances, the panel noted Mike Huckabee's comment over the weekend that the weather would be pivotal in whether Rep. Paul wins, because his supporters would be more willing to travel in bad weather than other candidates'. "Paul people will go through a snowstorm from Hell to get there," Bob Beckel argued, adding that Huckabee was particularly informed about the workings of the Iowa caucuses (Kimberly Guilfoyle added her prediction that Huckabee would have won Iowa in 2012 just as he did in 2008 had he ran).
RELATED: The Five Crew Exchange Their Secret Santa Gifts: Guess Who Donated To OWS?
Amid this conversation, Beckel made an interesting observation: since when is no one talking about Newt Gingrich? Beckel also proposed (with some mild praise for Gingrich that did not go unnoticed by Eric Bolling) that the rise and fall of candidates appeared "almost systematic," to the point that he believed Mitt Romney was behind the cycle.
The segment via Fox News below:

Have a tip we should know? tips@mediaite.com