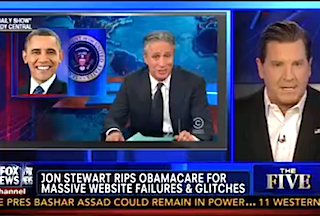 Fox News' The Five opened its show Tuesday with a look at some of President Obama's "best buddies" who may be "heading for the exits" as the Affordable Care Act's website problems persist. Host Eric Bolling looked at recent statements from Oprah Winfrey, Jon Stewart and MSNBC's Mike Barnicle that show how some on the left are distancing themselves from the health care law.
First up, Bolling shared the New York Post report that Winfrey turned down the chance to discuss the Obamacare rollout at the White House because she feels "burned" by the administration. He then turned to Stewart, who unleashed one of his epic takedowns on last night's The Daily Show, this time over the Obamacare website.
Finally, Bolling looked at comments from the "very liberal" Barnicle of the "very liberal" MSNBC network, who accused the administration of "outright lying" about the website's creation. "Liberals, pushing back a bit now, finally," Bolling said.
None of the hosts, including the slightly-less-liberal-than-Barnicle Bob Beckel could dispute the claims made by the left. "Just because they are criticizing him now, that doesn't matter. There's no reelection," Greg Gutfeld said. "They knew this stuff was bad. Now they can act like, 'Oh, we're being objective and ragging on it,' but it already happened."
"I think it goes to the heart of what they hoped would happen, which was that President Obama would have Obamacare as his signature legislative achievement, that he would go down in history as the person to… stop the soaring health care costs," Dana Perino said. "But you can feel the tsunami of negativity happening to them now."
Nearly a month into the major implementation of the Affordable Care Act, the last thing the Obama Administration could have hoped for is a "tsunami of negatively," especially when it's coming from the left.
Watch video below, via Fox News:
[photo via screengrab]
— —
>> Follow Matt Wilstein (@TheMattWilstein) on Twitter
Have a tip we should know? tips@mediaite.com