The Five Slams Bill Maher, Washington Post's Opinion Writers In Single Swoop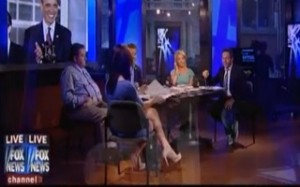 Fox News Channel's The Five slammed two Washington Post opinion writers and comedian Bill Maher on Wednesday. Co-host Greg Gutfeld called Maher a "dog that eats his own vomit" and the panel mocked the Washington Post's Chris Cillizza and Charles Lehane as being captive to a "Beltway mentality."

RELATED: The Five Chews On Obama's Dog Meat Scandal
The Five's hosts took on a Washington Post column by Cillizza in which he wonders if the fractured media environment has made the nation more difficult to govern. Cillizza quotes former campaign advisor to George W. Bush who said "due to the evolution of our political and media, we may never see a two-term president again."
Another column by Washington Post opinion writer, Charles Lehane, backs Cillizza up by saying that the partisanship of the modern era has made it "supremely challenging to effectively govern."
Gutfeld added to these columnist's findings, "barf."
He said that the media is scared that President Barack Obama could lose and are exhibiting more concern over the state of political culture today than they did under Bush as a result.
Co-host Andrea Tantaros said that these opinion writers would be correct if they assume that most people are listening. "I think it's a very Beltway mentality," said Tantaros. She noted that there have been many scandals that have taken down presidencies before the internet existed.
Co-host Bob Beckel said that Obama has had to contend with the internet-era and that could be "dangerous" outside the fact-checking filter of the media.
The panel also took on HBO host Maher writing that the GOP was the "party of the apes." Self-described creationist and co-host Eric Bolling said that this was a good thing for Maher to say, as a supporter of the theory of evolution.
"He crossed the line when the line when he decided to become the Super PAC guy with $1 million to the [Obama] campaign," said co-host Dana Perino. "I think it matters."
Tantaros said that Gutfeld insulted "toilet scrubbers" when he compared Maher to one. Gutfeld tagged Tantaros' line by asking what a "dog that eats his own vomit is called." He quickly answered his own question, "a Bill Maher impersonator."
"I'm getting awfully tired of defending bill Maher," said Beckel in response.
Watch the segment below via Fox News Channel:
> >Follow Noah Rothman (@Noah_C_Rothman) on Twitter
Have a tip we should know? tips@mediaite.com