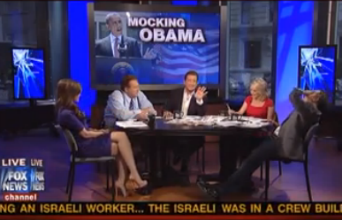 On Monday's edition of Fox News' The Five, the panel took on recent allegations that the Daily Caller's Neil Munro interrupted President Barack Obama's Friday immigration policy announcement because of racial motivations.
Co-host Eric Bolling began the segment by reading former ABC reporter Sam Donaldson's Saturday email to the Huffington Post in which he claimed that "Many on the political right believe this president ought not to be there — they oppose him not for his policies and political view but for who he is, an African-American!"
"What's with the liberals always playing the race card?" Bolling asked in-house liberal Bob Beckel.
Beckel brushed back on Bolling's suggestion that all liberals play the race card, and then proceeded to fault the White House Press Association for giving the Daily Caller a pass in the first place. "I would no more give a pass to the Daily Caller as want to get a bad case of the measles," Beckel said. "They are a right-wing group, they're not reporters. Who is this jerk?"
Co-host Dana Perino, a former press secretary under President George W. Bush, tried to understand why Munro felt the need to interrupt before the speech had concluded: "Sometimes a president takes question after a statement, sometimes they don't. You don't usually do it in the middle of somebody's statement. … The timing was in question. [Munro] probably had a feeling that Obama wasn't going to answer any questions. At least nobody threw a shoe at the president. You've got to remember that."
Greg Gutfeld then accused the left of "navel-gazing," saying that "Do you think the left ever sits around and goes 'I wonder if we were too hard on President Bush? Nope. That never happens."
"You're seeing the media defend the president," Gutfeld added. "It's not racism. It's called 'president-ism'. If you become president, you take your lumps."
"Helen Thomas used to mutter under her breath the whole time, under President Bush's press conferences," Perino said, invoking the famously tough former White House Press Corps member who recently resigned after making controversial remarks about Israel.
Beckel then interjected, "If you allow this kind of thing to happen, and it goes unpunished, everybody will start to kick in and do this. Is this guy an illegal immigrant by the way?"
Perino responded, "I don't think it's fair to say he's not a journalist. He worked at National Journal for ten years before he went to the Daily Caller. You wouldn't say that about the Huffington Post or Media Matters."
"His mother and father didn't raise him very well to have manners like that," Beckel said. "Look at this dude. Is he Irish — Scottish or Irish or something?"
The rest of the panel seemed confused by the question, with Gutfeld asking Beckel, "What are you talking about?"
"He's an immigrant," Beckel concluded.
Gutfeld laughed, covered his face, and leaned back in the chair.
Check out the segment below, via Fox News:
>>Follow Andrew Kirell (@AndrewKirell) on Twitter
Have a tip we should know? tips@mediaite.com