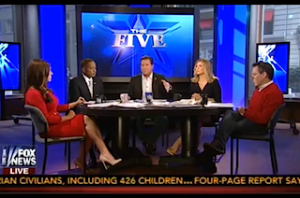 The Five hosts continued to express their skepticism Friday over U.S. intervention in Syria, and this time they didn't have Bob Beckel sticking up for the Obama Administration. After Secretary of State John Kerry made the strong case for military action today, Greg Gutfeld accused President Obama of "leading from behind Kerry."
But for Eric Bolling, the whole thing comes down to Obama's "ego." He said, "This is about President Obama's ego. He wants to save face" after issuing the "red line" that has apparently been crossed at least twice. "It is also about him defending America and America's ego when he says we have to do this or North Korea or Iran are going to see that we're weak," Bolling said. "We're going to have to go kill a bunch of people in Syria, we don't even know if we're going to kill the right people in Syria. We have to do it because we're America. I think it is a bad idea."
The one liberal at the table, Juan Williams, said he also thought the strike was a "bad idea," because "the Middle East is a mess" and the U.S. getting involved isn't going to solve anything. But, he did think the idea of using the Syria attack to send a message to Iran had some merit.
"How much does this matter to the United States?" Gutfeld asked. He did offer his "congratulations" to Obama for developing a new military strategy."The opposite of the element of surprise, it is called the element of here it comes," Gutfeld said.
"Where was President Obama today?" Katie Pavlich asked. "Why was the first major address to the country about Syria coming from the secretary of state?" She said Kerry's speech was "powerful," while "President Obama gives this four minute talk while he's surrounded by other people, and distracted, which he wouldn't let the press cover live, and says a couple things with this kind of lazy attitude of well, we just have to do something. Why is it that the secretary of state looks like President Kerry while President Obama is waiting to tell us what's going on?"
"Obama was leading from behind Kerry," Gutfeld said.
On this point, Williams urged his co-hosts to "stop hating on Obama," saying things are very different in Syria now than they were a year ago. "The thing is you sit here and everybody is acting like they know exactly what to do," he added. "They're going to blame Obama if he goes in or doesn't. I don't think that's fair to Obama."
Watch video below, via Fox News:
[photo via screengrab]
—
>> Follow Matt Wilstein (@TheMattWilstein) on Twitter
Have a tip we should know? tips@mediaite.com