The Five Rails Against Boston Bombing Suspect Having Received Welfare: 'Taxpayer-Funded Jihad'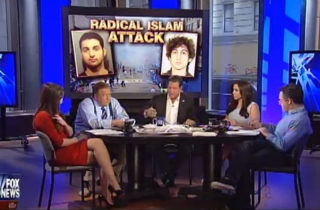 Reacting to a Wednesday morning report that deceased Boston bombing suspect Tamerlan Tsarnaev and his wife received Massachusetts state welfare payments, Fox's The Five tore into the system for enabling a "taxpayer-funded jihad."
According to the Boston Herald, Tsarnaev was receiving state benefits, along with his wife Katherine and their 3-year-old daughter, until 2012 when the family ceased to meet the income eligibility limits required by the state's Executive Office of Health and Human Services. The paper also reported that both of Tsarnaev's parents received state welfare payments at some point.
For the five Fox co-hosts, this news raises the question of whether the suspected Boston bombers may have partly funded their plans with taxpayer money.
"The United States is now a state that sponsors terror," said Greg Gutfeld. "It sponsors its own terror."
His co-host Andrea Tantaros added that "the worst part" is that Tsarnaev "wasn't even a citizen" at the point he received the state welfare benefits. "Can we officially say if you are here on green cards, no government money?" she asked.
Kimberly Guilfoyle added that this news makes her "so angry" because the Tsarnaev brothers "hate America" and "yet they are getting scholarships, the benefit of a great education, and starting families here."
"Enough is enough," added Eric Bolling. "We really need to revamp the immigration policy and our welfare policy."
Democratic panelist Bob Beckel even agreed with his colleagues, suggesting that perhaps the government should take more preventative measure than just preventing foreign Muslims from temporarily receiving student visas (his controversial proposal from earlier this week).
Without directly suggesting the government should take a second look at entitlement distribution, Beckel and his colleagues then pivoted to slamming foreign aid for countries like Syria and Egypt. "We are the biggest state sponsor of terrorism," Guilfoyle lamented.
Watch the segment below, via Fox:
— —
>> Follow Andrew Kirell (@AndrewKirell) on Twitter
Have a tip we should know? tips@mediaite.com