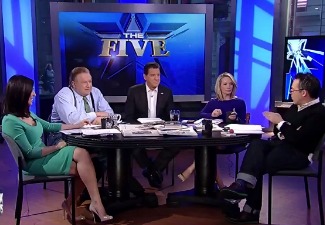 Bill O'Reilly has been rather strident about his disdain for cable news wall-to-wall coverage of MH370, but on Friday, he actually received some pushback from his colleagues at The Five. Co-host Andrea Tantaros mused on the irony in O'Reilly criticizing others for being in the ratings game.

O'Reilly said last night the media doesn't get bogged down in complex stories like the IRS and Benghazi, but can cover something as apolitical as the missing plane without suffering political consequences. And the key to all this: ratings, because as O'Reilly warned, a "combination of cash and politics" is a problem in a supposedly fair and free media.
RELATED: Greg Gutfeld Rags on Bill O'Reilly: 'How Egotistical Is That?!'
Eric Bolling said that "with all due respect" to O'Reilly, the entire world is completely riveted by the missing Malaysian Airlines flight and it is actually an important story that the media needs to focus on. Greg Gutfeld supplanted Bolling's point to say there are still potentially serious and even dangerous reasons the plane might be missing, and so "I don't know if you should be saying there are other things" to cover, pointing to the media's coverage of Duck Dynasty to argue that by comparison, this story is far more important.
Tantaros, meanwhile, found it a little odd O'Reilly would act above the media fray, so to speak.
"It's easy for Bill O'Reilly to, you know go after the media on this, but Bill O'Reilly is the media on this! I mean, he acts like he's a citizen journalist who's doing this for free! I mean, it's the most downloaded… post on Facebook. People have strong opinions."
Dana Perino did jump in towards the end of the segment to note O'Reilly's "brilliance" in being able to "talk about the plane in a way that could still get him ratings, but he could criticize people talking about the plane."
Watch the video below, via Fox News:
And you can watch O'Reilly's commentary here:
[photo via screengrab]
— —
Follow Josh Feldman on Twitter: @feldmaniac
Have a tip we should know? tips@mediaite.com
Josh Feldman - Senior Editor