The Five Rips Bloomberg Group's 'Sleazy' Gun Victims List: Like Putting Terrorists' Names On 9/11 Memorial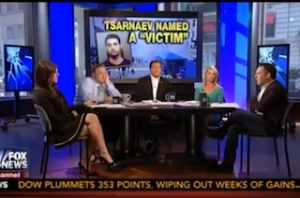 Mayor Mike Bloomberg's Mayors Against Illegal Guns group is under fire today after accidentally leaving Boston bomber Tamerlan Tsarnaev on its list of more than 5,000 gun violence "victims" killed since the Sandy Hook Elementary School massacre last December. Naturally, Fox News' The Five joined the growing chorus of outrage today, calling the list "sleazy" and asking, "What does it tell you about a group includes a murderous terrorist alongside kids?"
"It shows you they'll do anything to score political points," Greg Gutfeld continued, "and it also shows you how the media and government are hand in hand in shaping their own political narrative, even if their strategy is stomach turning." He invited his fellow hosts and viewers to wonder "how many gun stats are used to include perpetrators and criminals as victims?"
Andrea Tantaros wasn't surprised, sayng, "of course they're not going to pick them apart, because they want to make this really strong argument that guns are bad." She suggested that the group change its name to "Mayors Against Guns," since they appear to be against guns used for any purpose.
And Eric Bolling rejected the idea that including Tsarnaev's name was a "mistake," saying "that's what the left does." Just like The Daily Show and MSNBC, he argued, they "selectively edit" to make their point seem "more relevant."
As usual, Bob Beckel was the only one willing to defend the left-leaning group, saying that the "mistake" of including the one terrorist should not cause us to ignore the thousands of real victims on the list.
Dana Perino could not excuse the inclusion of Tsarnaev, "who killed and maimed hundred of people at one of the most patriotic events in America."
"And god bless gun for killing him," Gutfeld added.
"This would be like at the World Trade Center on 9/11 when they read the names of everybody to include Moussaoui in the M's," Perino said. "It's the equivalent of that."
"I think if you listed somebody at the World Trade Center who turned out to be a terrorist," Beckel shot back, "you wouldn't diminish the other 3,000 who got killed."
Watch video below, via Fox News:
—
>> Follow Matt Wilstein (@TheMattWilstein) on Twitter
Have a tip we should know? tips@mediaite.com