The Five Rips Media For Humanizing Bombers, Beckel Calls For Moratorium On Muslim Exchange Students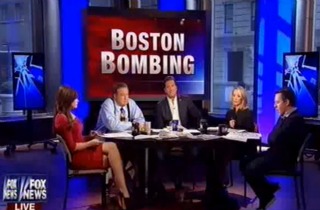 The Five hosts tore into some members of the media on Monday for what they considered humanizing the suspects in the Boston bombing case. The Five hosts wondered aloud why so many in the media consider it more acceptable to sympathize with the adversity faced by terrorist actors rather than confront their heinous actions. Later, co-host Bob Beckel called for a moratorium on accepting Muslim exchange students into the nation until authorities can determine whether the students already in the country pose a threat.

"What do hacks do when they're wrong about terror?" Greg Gutfeld asked of the media. He said that some revert to "relativism."
"Muslim extremism is no different from any other kind of extremism," Gutfeld said. "But, in order to make that stick, you've got to suck at math." He said that the media reverts to "root causes" to explain why extremism in any form is threatening in order to overcome the discrepancy between the large number of violent incidents committed by Islamists and the infrequent mass casualty events perpetrated by other extremist groups or individuals.
"This head-shrinking only benefits the killer while energizing the attention-craving copycats," Gutfeld insisted. "All root causes can be destroyed in one sentence: a lot of people don't fit in and still don't blow people up. We all don't wage jihad when we're sad."
The Five hosts mocked poet Amanda Palmer who penned a poem for the perpetrators of the Boston Marathon bombings. "It goes on for two pages feeling sorry for a terrorist who just killed five people and ended up ruining so many lives," Dana Perino said. "It's disgusting."
RELATED: Harris-Perry: Bombers' Muslim Faith As Relevant To Bombing As Ben Affleck Movies About Violence In Boston
The hosts moved on to tear into former NBC News anchor Tom Brokaw who called for more examination into the motivations which prompted the Boston Marathon bombers to attack the event and CBS' 60 Minutes which aired a humanizing profile of the alleged terrorists.
Eric Bolling said that the 60 Minutes piece was tailored to create the impression that 19-year-old Dzokhar Tsarnaev was a lovable, average teenager. "Like he's the victim," Perino added.
"In the Muslim communities around the world, they do not like us," Beckel noted. "I think we really have to consider, given the fact that so many people hate us, that we're going to have to cut off Muslim students coming to this country for some period of time so that we can absorb what we've got, and look at what we've got, and decide whether some of the people here should be sent back home or to prison."
Kimberly Guilfoyle concluded the segment by wondering why some people found it easier to express sympathy for the attackers in this case rather than confront their evil.
Watch the clip below via Fox News Channel:
> >Follow Noah Rothman (@NoahCRothman) on Twitter
Have a tip we should know? tips@mediaite.com