The Five Rips NY Times Editorial: 'Does Obamacare Cover Getting Your Head Out of Your Ass?'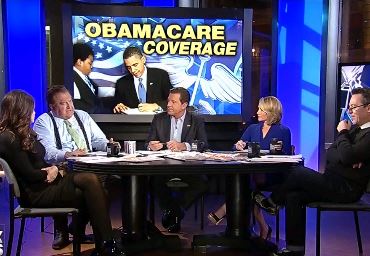 When President Obama repeatedly said Americans could keep their current health care plans if they liked them, was he lying? According to a weekend editorial in The New York Times, the president "clearly misspoke" when he made those statements. This afternoon, Fox News' The Five took the paper to task for what they viewed as typical liberal media spin.
"In the suck up Olympics, The New York Times gets the gold for redefining lying as misspeaking," Greg Gutfeld began. After tearing into the Times for downplaying the situation, he piled on the paper for choosing broccoli, instead of Obamacare, as the lead story in health issue of Sunday's magazine. "Does Obamacare cover getting your head out of your ass?" he asked.
After Bob Beckel channeling Seinfeld's Newman with his explanation of how much he despises broccoli, Eric Bolling wondered aloud whether the Times' editorial is any worse than CBS saying only 6 sign-ups on the first day of October meant Obamacare was "off to a slow start."
Next, Kimberly Guilfoyle returned to the primary subject of the segment. "They have a loose relationship with the truth, and they like it like that" she said of the Times. "They don't care what the reality of the facts are."
Dana Perino said she found The New York Times editorial page "infuriating" every day of the week, but especially on Sundays. She pointed to the "half-baked" explanation provided by editor Andrew Rosenthal as proof that "the media seems to not be willing to accept this lie."
"It makes you wonder what does president have to do to be accurately criticized by The New York Times?" Gutfeld asked. "Soes he have to kidnap a bus load of orphans?"
Watch video below, via Fox News:
[photo via screengrab]
— —
>> Follow Matt Wilstein (@TheMattWilstein) on Twitter
Have a tip we should know? tips@mediaite.com