The Five Rips Trayvon's Friend For 'Creepy-A** Cracker' Comment: 'If This Is Their Star Witness, Good Luck'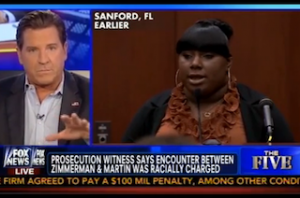 Towards the end of their show Thursday, the hosts of The Five played the now infamous clip of witness Rachel Jeantel testifying that her friend Trayvon Martin called George Zimmerman a "creepy-ass cracker" shortly before the altercation that ended with Zimmerman shooting Martin. "I have to say, if that's their star witness, good luck," Bob Beckel told his fellow co-hosts.
Eric Bolling wouldn't say whether he thinks Jeantel's comments elevate the importance of race in the case, but he did find it "disturbing" that the witness said people in her neighborhood commonly describe white people in that manner. "We took Paula Deen down over the last couple of days for saying a racially-charged comment," Bolling said. "But I'm going to say 'creepy-ass white cracker,' which she used another time, is also racially charged."
"I just want to announce that I have developed a new line of 'creepy-ass crackers,'" Greg Gutfeld said, holding up his prototype to the camera (photo below).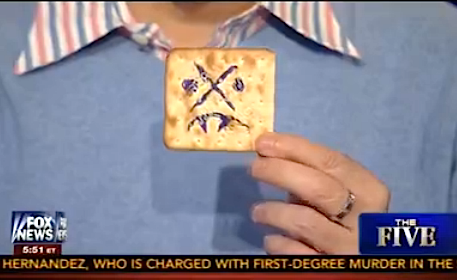 Getting the group back on track, Andrea Tantaros predicted that there won't be "any way to escape" the Zimmerman trial becoming "more of a racial issue." She said it appeared Zimmerman's defense attorneys were actively trying to make race a larger factor in the case to somehow show that Martin attacked Zimmerman based on the color of his skin.
Finally, Dana Perino said she wasn't quite sure defense attorney Don West "understands women very well." He's dealing with an all-female jury, and according to Perino, he came off as "condescending" to Jeantel. "He looks like he's being a jerk."
Watch video below, via Fox News:
—
>> Follow Matt Wilstein (@TheMattWilstein) on Twitter
Have a tip we should know? tips@mediaite.com