The Five Runs with Elaborate Obamacare Analogy: Like a 'Cold Sore on a Hooker's Lip'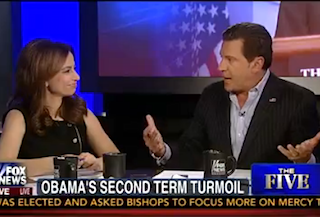 The hosts of Fox News' The Five have been railing against the Affordable Care Act for so long, you would think they would have run out of ways to describe it. But no, on Monday's show, Greg Gutfeld introduced a disturbing analogy that quickly took on a life of its own. From President Obama's scandals being like a "cold sore on stripper's lip" the hosts were soon comparing Obamacare to prostitution.
Dana Perino began the show by introducing the new report from The Wall Street Journal that estimates only 40-50,000 people have successfully enrolled in plans through the Obamacare exchange.
At 50,000 per month, Eric Bolling calculated "it would take 140 months to get to their 7 million number they want in March" or almost 11 years. "So, it's a disaster," he said.
Looking back at the various Obama "scandals" over the last months and years, Gutfeld said they "come and go" like a "cold sore on a stripper's lip." He advised the Republican Party to not only focus on how "crappy" the health care law is but also come up with something "positive–Stop thriving on crisis, start thriving on solutions."
"But like the cold sore on the hooker's lip, it will keep flaring up…" Julie Roginsky said, before getting cut off by Gutfeld.
"I said stripper," he noted.
Meanwhile, Bolling chimed in with, "Now strippers are going to be really mad."
Attempting to steer back to health care, Roginsky said, "It will keep flaring up, unless he gets in under control." She asked how, if health care is Obama's "number one priority," he could have "allowed it to go down this badly."
Not willing to let go of the analogy at hand, Bolling said that if the website does get fixed, "You can fix the cold sore, but she's still a stripper."
"I would like to formally apologize for introducing this metaphor in the A block," Gutfeld said.
"But it works so well, it's actually perfect," Bolling replied. "Obamacare is like prostitution."
Watch video below, via Fox News:
[photo via screengrab]
— —
>> Follow Matt Wilstein (@TheMattWilstein) on Twitter
Have a tip we should know? tips@mediaite.com