The Five Ruthlessly Mocks Dennis Rodman, Gutfeld Calls Him Kim Jong-Un's 'Little B*tch'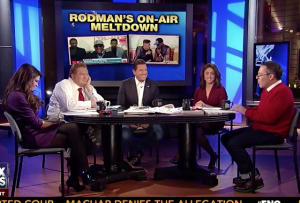 Dennis Rodman's trip to North Korea has invited near-universal mockery from everyone except Jesse Jackson, and now his angry outburst on CNN has kept the cycle going, and the hosts of The Five joined in Tuesday, with Greg Gutfeld scoring all the biggest zingers, even going so far as to call the ex-NBA player Kim Jong Un's little bitch.
Gutfeld called Rodman an "ass," and lumped him in with all the other "totalitarian butt-kissers" like Jane Fonda and Sean Penn before he really ratcheted things up.
"Rodman will never see the real North Korea. The dead, the starving the suffering. Worse, he won't even ask to see it, 'cause he's a wimp. After all, he's going there to celebrate his bud's birthday. Yeah, Rodman is the Marilyn Monroe to Kim Jong Un's JFK. This makes Rodman more than a patsy. To borrow from his own vocabulary, he's lil' Kim's little bitch."
His co-hosts immediately joined in on the mockery. Kimberly Guilfoyle laughed at just how incomprehensible Rodman is, while Bob Beckel Rodman sounds exactly like he did when he drank and took Xanax.
Eric Bolling, meanwhile, told a hilarious and very weird story about a run-in he and his wife had with Rodman. Andrea Tantaros made the whole thing slightly grimmer when she half-joked that Rodman may end up getting the same kind of treatment Kim Jong-Un's uncle got…
Watch the video below, via Fox News:
[h/t The Right Scoop]
[photo via screengrab]
— —
Follow Josh Feldman on Twitter: @feldmaniac
Have a tip we should know? tips@mediaite.com
Josh Feldman - Senior Editor