The Five Sheds No Tears Over Hugo Chavez' Death On Fox: Won't 'Be Missed By Anybody'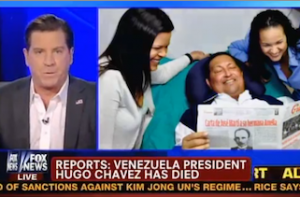 At the top of the hour Tuesday afternoon on Fox News, The Five took on the breaking news that Venezuelan president Hugo Chavez has died after a two year bout with cancer. The mood on the set wasn't exactly somber as the hosts discussed the potential benefits for both Americans and Venezuelans now that Chavez's decade-plus rule is over.
Eric Bolling launched right into his impressions of Chavez over the years, saying, "He has never been a friend to America. He has done things that have made us upset. He called George Bush 'the devil,' 'el diablo' from the UN platform." He added that there's "no love lost" between the United States and Venezuela and expressed hope that the next regime will be a better ally.
Next, Dana Perino agreed that Chavez's death could only have positive effect for Venezuelans. "They have been living under this horrible dictator," Perino said. "I don't think he will be missed by anybody."
And Greg Gutfeld offered his "condolences" to noted fan and friend of Chavez actor Sean Penn, who Gutfeld said "must be grieving." Relating Penn's recent trips to Venezuela to Dennis Rodman's basketball diplomacy in North Korea, Gutfeld said Penn was the first modern celebrity to "cozy up to jerks."
The rest of the show's opening segment primarily focused on the new potential for oil and natural gas trade with the country, assuming their new president ends up being friendlier to the United States than Chavez was. Bob Beckel noted that Chavez is one of the few "dictators" who "did not leave an heir apparent," which could make it difficult for his followers to retain power. However, the AP is reporting that Chavez's "hand-picked successor" Nicolas Maduro is set to take over.
While the panel agreed that the United States likely won't be sending any personnel to the funeral, Andrea Tantaros predicted that handling the altered relations between the countries could be Secretary of State John Kerry's "first big task" in his new role.
The lively discussion among the hosts was followed by a more traditional, serious obituary piece that looked back on Chavez' life and career.
Watch video below, via Fox News:
—
>> Follow Matt Wilstein (@TheMattWilstein) on Twitter
Have a tip we should know? tips@mediaite.com