The Five Take On Al Jazeera Purchase Of Current TV: $500M 'Buys You Keith Olbermann's Depends'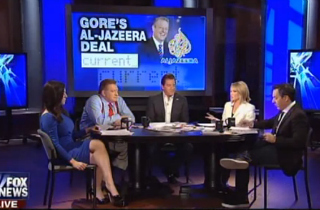 Thursday afternoon's edition of Fox's The Five took on Al Jazeera's acquisition of progressive cable outlet Current TV, with the show's conservative co-hosts railing against Current founder Al Gore's support for higher taxes on the wealthy despite his supposed push to get the sale done before increased taxes took effect; in addition to the former VP's opposition to fossil fuels despite selling the network to an oil nation-backed outlet.
Yesterday it was revealed that the Qatar-owned news company would purchase the struggling progressive channel for a whopping $500 million.
That sum provided co-host Greg Gutfeld with a requisite joke at Current's expense: "We did a story about coffee beans digested by the elephants, a kilo of them were sold for $1,000 a kilo. So the Current TV deal shatters the record as the most expensive piece of crap ever."
"That buys a lot of massages," Gutfeld joked in reference to Gore's previous scandals involving several masseuses accusing the VP of sexual assault.
"Al Gore has been lecturing us on green energy," co-host Andrea Tantaros added, "Yet Qatar owns Al Jazeera. Qatar, an OPEC nation that strong-arms the U.S. all the time. It's so disgusting I want to puke."
Co-host Dana Perino joined in on the Current-bashing: "Do you think people in America, are they longing for another network? They weren't watching Current TV anyway. Are they going to watch a network from Qatar, financed by oil money?"
Gutfeld jumped back in to "interpret" the Current TV sale press release: They say they will have 'diverse points of view' — left wing to leftist. 'Stories that no one else is telling' — stories from the Media Matters press release. 'Truth to lead to a better understanding of the world around us' — please, America, bow more."
Perino then added that Al Jazeera is "not the only government that is trying to get access to American market," claiming the Chinese have tried to enter the business as well.
To close out the segment, Gutfeld took yet another shot at the $500M selling point, saying that the price tag "buys you a mini-fridge, a camera, and an old pair of Keith Olbermann's Depends [adult diapers]."
Watch the segment below, via Fox:
— —
>> Follow Andrew Kirell (@AndrewKirell) on Twitter
Have a tip we should know? tips@mediaite.com