The Five Takes On Chicago Shooting: If Gangs Have Assault Weapons, So Should 'Innocent Americans'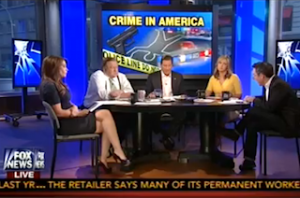 Greg Gutfeld opened a segment about last night's gang-related shooting in Chicago by saying, "The same people who scream about gun control after a horrible mass shooting are always AWOL in these cases." He said the media and politicians ignore shootings like this one "because it's easier to condemn a phantom rifle than gangs."
After revealing that police believe the shooter (or shooters) used assault-style weapons to wound 13 people, including a 3-year-old child, Eric Bolling said, "That's the problem. The gangs have the assault weapons and they want to take people who want to defend themselves against high-powered weapons–out of the hands of innocent Americans. Because the gangs will always have assault weapons."
Both Bolling and Gutfeld used the opportunity to argue for an expanded use of the controversial "stop-and-frisk" tactic. "If you ban stop-and-frisk totally," Gutfeld said, "then the police is strictly there to wait until after a crime is committed, which is what you see in Chicago and in Detroit." He said that helps explain why New York has such a lower murder rate than those cities.
"The fact of the matter is," Bob Beckel weighed in, "it's not like New York where you don't have gangs fighting over drug territory." He said the situation in Chicago is more "like a war." He argued with his more conservative co-hosts over what more can be done to stem the violence besides letting more people own assault weapons.
Katie Pavlich blamed the problem on the low rate of prosecutions for gun crimes in Chicago. "When criminals are not prosecuted for gun crimes, guess what?" she said. "They don't get inputted into the background check system that everyone claims to love. So then they go forward and commit more gun crimes." It was left unsaid how that sentiment can co-exist with an opposition to stricter background checks.
Watch video below, via Fox News:
[photo via screengrab]
— —
>> Follow Matt Wilstein (@TheMattWilstein) on Twitter
Have a tip we should know? tips@mediaite.com