The Five Takes On MSNBC's Todd, Matthews for Suddenly Questioning Obama's 'Credibility'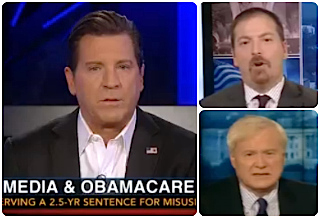 Just as Monday's show focused on Saturday Night Live's about face on Obamacare, Tuesday's episode of The Five looked at another media institution that's typically friendly to President Obama. Eric Bolling presented clips of MSNBC's Chuck Todd, who said he always suspected Americans might not be able to keep their health insurance, and Chris Matthews, who questioned the president's "credibility" this week after as the Affordable Care Act's rollout continued.
First up, the hosts took on "talking goatee" Todd, who Bolling accused of "carrying water for the administration by blaming the insurance companies for the new revelations that millions will lose their insurance under Obamacare." Dana Perino couldn't believe that Todd was suggesting that he and his colleagues were always "skeptical" about the president's promises, saying that instead critics like her were made to look "crazy and hateful and racist" for questioning Obama.
Bolling presented his next clip by saying, "In a rare movement sanity or sobriety, whichever comes first, 'Tingles' Matthews over at MSNBC questioning President Obama's cred."
Greg Gutfeld said that "Chris Matthews saying you have a credibility issue is like Mike Tyson saying you have a tattoo-on-your-face problem. As for Andrea Tantaros, she thought Matthews was just "covering his own butt" and figured his own "credibility" was more important than Obama's.
"You never make an absolute statement in politics," Bob Beckel said of Obama's promises, "because it always comes back to bite you." He agreed with Bolling that the whole thing came down to "politics over policy."
Watch video below, via Fox News:
[photo via screengrab]
— —
>> Follow Matt Wilstein (@TheMattWilstein) on Twitter
Have a tip we should know? tips@mediaite.com