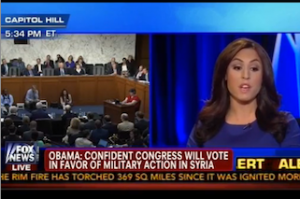 As the first Congressional hearing on Syrian intervention was coming to close, the hosts of The Five took a look at where leading Republicans stand on the issue. With a GOP that appears torn between opposing President Obama's plan because it goes too far and opposing his plan because it doesn't go far enough, how will conservative members of Congress end up voting? And what will the political implications be?
After playing a montage of Republican talking points over the last few days, Eric Bolling pointed to poll numbers that say Americans are against intervention. "The people are against this," he said. "All of these congressmen and senators are going to go up for re-election, are going to face constituents and say 'we didn't want to go to Syria,' especially if this thing blows up, which it will… They have to go face constituents, and say, 'I know you didn't want to do it, but I voted for it anyway.' That's going to be a tough go."
Bob Beckel noted that Republicans have "historically been more willing to act" in situations like this one and it's only recently that "the isolationist wing of the Republican Party has reared its head again." He advised Republicans to stick with the president on this one and vote for intervention.
But Andrea Tantaros thought the implications loom large for the GOP. "This is going to be the most important vote outside of probably Obamacare," she said. "It is a very critical vote the members have to take and they better think long and hard about this."
Then of course there's the question of what will happen if the House and Senate vote down the resolution. While he thought it was very unlikely to happen, Beckel said if it does, Obama "should go anyway, and he should go. We have a moral obligation to do it."
Watch video below, via Fox News:
[photo via screengrab]
— —
>> Follow Matt Wilstein (@TheMattWilstein) on Twitter
Have a tip we should know? tips@mediaite.com