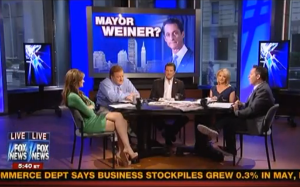 The Five kicked off the week with a segment devoted to none other than Anthony Weiner, the congressman who resigned last year in the wake of a rather lewd scandal. Word through the grapevine is that Weiner is looking to return to politics, possibly in the form of a New York City mayoral run. The co-hosts took a ridiculing look at whether he could swing such a comeback — and why he'd even want to.
"So why is he still pining for politics?" Greg Gutfeld asked, offering up the answer. "It's simple. What else can he do? He's the epitome of male arrested development." He further tore into Weiner's having "no skills" — he couldn't even "master Twitter, forget a forklift."
Gutfeld asked that he we not reward Weiner with this "nerd comeback." Weiner, who is the "product of society that think children should be on their parents' health insurance until they're 26." He then helpfully gave the fallen (and aspiring) politician some advice: "Take grown-up lessons first." Like say, "intern for O'Reilly." But of course, if he succeeds, there's a bit of silver lining: the jokes will write themselves.
As the roundtable laughed over the hilarity of the whole thing, Bob Beckel, only after cracking a joke, added his two cents. Nothing, not "all the money in the world could rehabilitate this guy," he said. Along the same disapproving vein, Dana Perino questioned whether Weiner is really looking to serve the city and hopes to better it — or whether it's simply to please his own vanity. A more blunt explanation came from Kimberly Guilfoyle: "He needs a job."
Take a look, via Fox News:

Have a tip we should know? tips@mediaite.com