The Five Tears Into Media For 'Swooning' And Lack Of 'Tough Questions' For Obama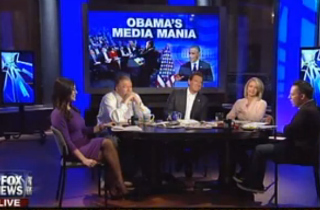 This afternoon, Fox's The Five went after the media for "swooning" over President Obama, particularly based on Michael Hastings' report that the press corps behaves in a "juvenile and amateurish" way around the president.
Co-host Greg Gutfeld suggested "the press wanted to be liked by Obama rather than respected," and joked that Obama is the cooler successor to George W. Bush — i.e., "the new stepdad that lets you smoke pot in the garage with him."
"This is like groupies on a Led Zeppelin tour," Gutfeld continued. "No politician left or right deserves that treatment."
"The media created this problem," Andrea Tantaros added. "They're the ones who gave him a God-like status. Newsweek made him look angelic on the covers. Then they believe their own hype. So the reason they believe he's this amazing, supernatural guy is because they wrote the headlines. So now they are drunk with their own nonsense."
Liberal co-host Bob Beckel explained that the president is "somewhat intimidating" because he "doesn't like the press" — a similar situation, Beckel said, to former President Ronald Reagan, who "got very few hard questions" because "the press was intimidated by him and they liked him."
"I'm guessing if I'm in the room with him, I'm not weak kneed and sorry-eyed," Eric Bolling said. "I would love to ask questions."
Dana Perino, a former Bush press secretary, explained that despite the press corps' persistent mockery of him, "Bush did like them, he had respect for them." And then she revealed that she has once felt weak-kneed around Obama after meeting him for a second time and having the then-senator remember her favorably. "I might vote for him," she recalled thinking.
Watch below, via Fox:
— —
>> Follow Andrew Kirell (@AndrewKirell) on Twitter
Have a tip we should know? tips@mediaite.com