The Five Tears Into Obama's 'Softball Interview With 60 Kisses' On CBS Super Bowl Sunday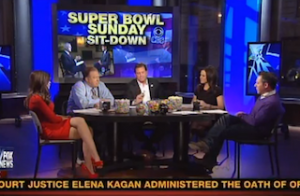 Fox News' The Five kicked off their Friday afternoon show with a preview of Scott Pelley's Super Bowl Sunday interview with President Obama on CBS. Eric Bolling began the segment by saying, "If Steve Kroft's 60 Minutes interview last week is any indication we're more likely to see a lead-in to the Puppy Bowl than the Super Bowl." He then rolled a montage of some of the friendlier moments from Obama's joint interview with Hillary Clinton.
Bolling predicted a "slow pitch softball practice" session when Obama sits down with Pelley at 4:30pm EST before the Super Bowl on Sunday and went around the table asking what questions his co-hosts would like to hear. "I think we should ask him about Obamacare," Kimberly Guilfoyle said, "and why he is going to penalize say a family of four making $96,000 and charge them $20,000 for Obamacare."
Andrea Tantaros went next suggesting that Pelley, "ask him if he agrees with Secretary of State Clinton's assessment we are in a global war against radical Islamic jihadists. I would get him to acknowledge it and say the words."
Bob Beckel then acknowledged that these types of questions may not be "what people want out there" right before the Super Bowl. Instead, he suggested Pelley ask Obama about his hypothetical son and "why he wouldn't want him to play football. Does he think the game is getting too rough?"
Finally, Greg Gutfeld weighed in, saying Pelley's lucky because there's no way his interview could be as bad as Steve Kroft's. "That wasn't an interview, it was a ménage à trois." He then read an "advance list" of Pelley's questions including "What did you do for your pecs? You're totally ripped!"
Guilfoyle agreed, predicting another "softball" episode of "60 kisses," saying "he won't hit him hard on any of this. GDP, Benghazi, nothing."
Going back to Beckel's football-related question, Tantaros echoed Hillary Clinton, asking "What difference does if make if hypothetically the president had a son and wouldn't let him play football. Who cares?"
Beckel maintained that the president's 60% approval rating is evidence that Americans don't want to see him pressed with tough question before the Super Bowl. But for Bolling, this was all proof of Fox News' importance in the mainstream media landscape. Since everyone else has given Obama "an easy go of it" you "need balance just to see the other side of the story."
The panel pointed out that next year the Super Bowl is scheduled to air on Fox, so just as the president sat down with Bill O'Reilly in 2011, he should be facing off with another Fox News personality in 2014. Could it be one of The Five?
Watch video below, via Fox News:
—
>> Follow Matt Wilstein (@TheMattWilstein) on Twitter
Have a tip we should know? [email protected]