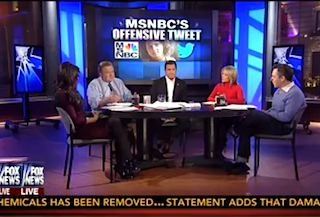 The Five dedicated their second segment Thursday to the tweet MSNBC sent out, and subsequently deleted, predicting the "right-wing" would "hate" the latest Cheerios commercial featuring a biracial family. Juxtaposing the tweet with Melissa Harris-Perry's recent panel discussion about Mitt Romney's black grandson, host Greg Gutfeld called MSNBC a "one-stop shop for master race-baiting."
"What do you say if you're MSNBC?" Kimberly Guilfoyle asked. "I think you feel awful about the choices you're making and what their colleagues have done there."
The network's president Phil Griffin made a statement earlier in the day, apologizing for the "outrageous" tweet and announcing that the person responsible for sending it out had been let go.
RELATED: RNC Chair Calls for Complete GOP Boycott of MSNBC over 'Demeaning' Tweet
When Bob Beckel argued that it's not the "entire left" that thinks conservatives are racist, Dana Perino responded, "But the entire left spends all of their time attacking one news network, Fox News, and I think the exposure of hypocrisy on the left is actually very refreshing for a lot of people."
Addressing Griffin directly, Eric Bolling said he has a "responsibility here to make some changes" before saying that MSNBC is "one step out of the scrapyard anyway," so it might not matter what he does to try to fix things.
Even though he said he was "appalled" by the tweet and other things that have been said on MSNBC's air, Beckel pointed out that Fox personalities have made their fair share of controversial comments.
"It's fair to say on the other side that there are some people at this table and around our own network who have said some of the rudest and crudest things about the president of the United States," Beckel said. "MSNBC is way over the line, but let's not say this is a preserve of the left, come on."
Watch video below, via Fox News:
[photo via screengrab]
— —
>> Follow Matt Wilstein (@TheMattWilstein) on Twitter
Have a tip we should know? [email protected]