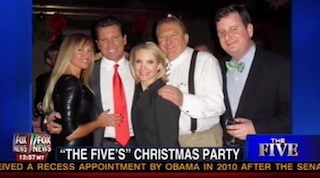 Yesterday, the folks over at The Five seemed to already be in vacation mode and who can blame them (certainly not the folks in the Mediaite office who were silently praying they wouldn't say anything interesting thus forcing us to write up the damn thing)? Not only are the holidays so close you can smell the holly, but it appeared that the cast of our favorite penta-based panel show was still recovering from a holiday party the night before. The hosts told stories of all the toasts that were given and the amazing sense of family they had and it was all very sweet. And then Andrea Tantaros told a story of the time Bob Beckel hit on Eric Bolling's wife and it was…uh…kind of sweet.
RELATED: Whoopi Goldberg Says Communism Doesn't Work, The Five Get Furious She Didn't Say It Loudly Enough
Apparently Beckel warms up for every episode with a cigar break outside of the studio and, one time, he saw a lovely lady while there. Not knowing she was Bolling's better half, he did what any self-respecting TV star would do; he hit on her. Eventually Bolling arrived and had to point out who exactly Beckel was talking about. On the show, Beckel was nice enough to say that his "estimation" of his co-host had gone way up after seeing who he was married to.
There are two take aways from this story. First, after hearing about this and the Ed Schultz situation the other day, I've developed a theory that Bolling only gets the respect he deserves when actually in front of the TV cameras. Clearly he needs to get an around the clock telethon or something. And, second, if there are any Beckel groupies out there, you now know how to snag your prize. Just show up outside the studio at 4:45, wear your sexiest outfit (suspenders not required), and carry around a lighter for his cigar. It's as easy as that. Good luck, ladies.
Watch the clip from Fox News below:
Have a tip we should know? tips@mediaite.com