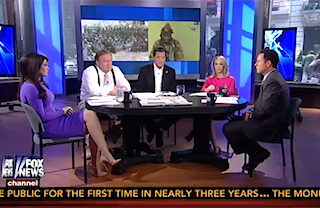 What does it take for The Five to agree with Bill Maher? Apparently, the actions of Boko Haram, the extremist group that has kidnapped hundreds of young girls in Nigeria.
On Monday, the Fox News show played a clip of Maher discussing the issue on last week's episode of HBO's Real Time. On his show, Maher accused Arianna Huffington and other liberals of being too politically correct to blame the reaching of Islam for inspiring terrorists like the ones in Nigeria. "Liberals like yourselves do not stand up for Liberalism," Maher told his guests, citing equality for women as a primary tenet for which they should be standing up.
"He's actually standing up," host Kimberly Guilfoyle said of Maher. "I think he's got it right this time, cautiously optimistic to say that."
The other hosts were reluctant to explicitly agree with Maher, but their words all echoed his. Brian Kilmeade said that if people "really cared about women's rights," they would less focused on the pay gap in America and more on the larger atrocities women face globally.
"If you look back over the last maybe 20 years or so, just about every single terror attack, most terror attacks, a vast majority of terror attacks can be linked back to some sort of Islamic extremist, some sort of Islamic fundamentalist funding if not ideology as well," Eric Bolling said. However, unlike Maher, he offered up a defense of Christianity, saying, "I can't remember any Christians blowing up airplanes or buildings in the last 20 years."
Bob Beckel perhaps went even further than the rest, saying the United States should cut of formal relations with any country that fails to protect its citizens from the type of terror that Boko Haram has been using. "Anybody who practices Sharia law ought to be a rogue state and should be treated as such," he declared.
Watch video below, via Fox News:
[Photo via screengrab]
— —
>> Follow Matt Wilstein (@TheMattWilstein) on Twitter
Have a tip we should know? tips@mediaite.com