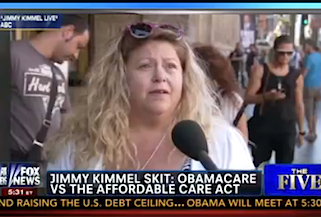 Jimmy Kimmel's latest man-on-the-street segment, in which his correspondent asks regular people on Hollywood Boulevard whether they prefer the Affordable Care Act or Obamacare, has become a big hit on YouTube where it's racked up more than 1.8 million views. Wednesday afternoon, Fox News' The Five aired clips from the piece as evidence of how little Americans know about the law, no matter what it's called.
"If you look at any of the current event polls," Dana Perino said, "when they do these funny videos, they go out and ask people, they're not focused on it, but there is a general feeling of anxiety about Obamacare and the majority of people do not like it." She said that could change once people actually shop for coverage on the exchanges, but she "doubts" it will.
For Eric Bolling, the video was just further proof that the American electorate is "misinformed or uninformed" or just "doesn't care anymore." He said it will only be once they realize they need health insurance to avoid a penalty on their tax returns that they wake up to what's going on.
Of the group, Bob Beckel was the only one who appeared to glean the intended takeaway of Kimmel's piece, which is that people may say they're against "Obamacare" but actually are in favor of the Affordable Care Act and its specific provisions. "Do you see what these people were saying?" he asked his co-hosts. "When you say 'Obamacare,' they don't know what it is. The problem is they don't like Obama."
Watch video below, via Fox News:
And watch Kimmel's full segment below, in case you missed it, via ABC:
[photo via screengrab]
— —
>> Follow Matt Wilstein (@TheMattWilstein) on Twitter
Have a tip we should know? tips@mediaite.com