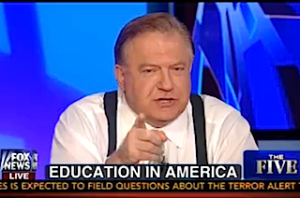 A Thursday afternoon segment on The Five that was ostensibly about actor Matt Damon's decision to send his children to private school took a sharp turn when Bob Beckel exploded at his conservative co-hosts, accusing them of "playing the race card" in their arguments against the value of public schools.
Each host got a chance to weigh on the issue before Beckel got his turn. Eric Bolling accused Damon of "hypocrisy" for his outspoken support of "progressive" public schools. Dana Perino said it is "criminal" that only 15% of blacks can pass reading and math standards in New York City. And Greg Gutfeld said that government has managed to "wrestle" education "away from private control" and because of that it's a "mess."
Finally, Beckel joined the conversation, pushing back on the narrative by saying, "the overwhelming number of schools in this country are great, the teachers are great." He told the co-hosts who were pushing back that when "you pick out black cities and you say, 'there is terrible education, terrible teachers… you are playing the race card."
"If you look at the majority of Hispanics and blacks, they favor school choice," Andrea Tantaros shot back. "These black and Hispanic parents are desperate to have the same choices that Matt Damon's kids have."
Beckel maintained that the only reason we have an education "epidemic" in this country is that "we rely on ridiculous test scores" to measure success. "Most teachers are damn good," he declared.
Watch video below, via Fox News:
—
>> Follow Matt Wilstein (@TheMattWilstein) on Twitter
Have a tip we should know? tips@mediaite.com