The Five's Beckel Loses It on Muslim-American 'Cowards' in Wake of Kenyan Mall Attack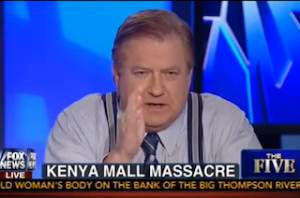 Greg Gutfeld may have been the one to open The Five's Monday afternoon segment on this weekend's brutal terror attack at a Kenyan shopping mall, but it was Bob Beckel who unleashed a furious rant against Muslim "cowards," including those who live in America, who do not do more to speak out against this type of violence.
"You moderate Muslims out there, I know I've been on this thing for a long time," Beckel said, "but the time has come for you to stand up and say something." He took the opportunity to revive his calls to ban foreign Muslim students from entering the United States and prevent new mosques from being built.
"I repeat what I said before," Beckel declared. "No Muslim students coming here with visas. No more mosques being build here until you stand up and denounce what's happened in the name of your prophet. It is not what your prophet meant." Referring to a question the attackers reportedly asked victims before killing them, he said, "I don't know what his mother's name is and I don't care!"
"The time has come for Muslims in this country and for other people around the world to stand up and be counted," Beckel said, summarizing his point. "If you can't, you're cowards."
It was not an easy act to follow, with the other co-hosts not even attempting to approach Beckel's rage level on this issue. Later, Beckel continued his plea with Muslim religious leaders to kick the "fanatical idiots" out of the faith altogether.
Echoing President George W. Bush, Dana Perino agreed with Gutfeld that the reason Muslims stay quiet is because they fear they would be killed for speaking out. "The idea is then to strike fear into how we live our daily lives. They hate freedom because freedom is against everything they believe in," Perino said. "This is why it was called the global war on terror. I think that this is the ultimate battle of good versus evil."
Watch video below, via Fox News:
[photo via screengrab]
— —
>> Follow Matt Wilstein (@TheMattWilstein) on Twitter
Have a tip we should know? tips@mediaite.com