The Five's Bob Beckel Is Furious, Tells 'Idiotic' CBS Executives To 'Shove It'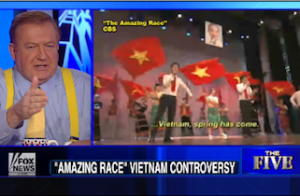 Fox News' The Five took on a recent controversial episode of CBS' The Amazing Race, in which contestants traveled to Hanoi, Vietnam and had to memorize a pro-Communist song and look for clues in the wreckage of an American B-52 bomber. The clip had liberal host Bob Beckel particularly enraged, leading him to shout at the "idiotic" CBS executives to "take that show and shove it" if they couldn't come up with anything that didn't disrespect American veterans of the Vietnam War.
After Greg Gutfeld and Eric Bolling agreed that the episode was probably just the result of young, inexperienced producers who Vietnam is simply "where spring rolls come from," Beckel jumped in to offer his somewhat more impassioned opinion on the subject.
"I am so outraged by this," Beckel began. "CBS is idiotic. They're stupid… Don't blame it on young producers, it had to go through somebody at the executive branch at CBS. If CBS can't do better than that, to have people go to memorial where Americans died, then you ought to get off the network. Take that show and shove it!"
None of the other hosts could quite match Beckel's outrage, but they all agreed that the show was a mistake by CBS and the producers should release an apology, preferably on-air during the next episode. Beckel got the last word on the issue, calling it "a Communist show by a network that ought to know better."
Watch video below, via Fox News:
—
>> Follow Matt Wilstein (@TheMattWilstein) on Twitter
Have a tip we should know? tips@mediaite.com